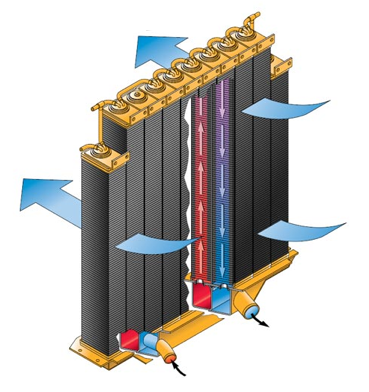 AMOCS radiators utilize a unique design and can be found on a variety of equipment including "R" series models. The key feature to this design is that it utilizes a two pass cooling system which effectively increases cooling surface area to provide greater cooling capacity over conventional one pass systems, this design is very effective in applications where there is a limited frontal surface area available.
The two pass cooling system circulates coolant from the sectioned bottom tank, up through the front side of the radiator tubes, the coolant then flows down through the rear side of the radiator tubes returning to the bottom tank and then flows back via the water pump through the engine.
With this design also comes a unique consideration that we call "coolant bypass". This design utilizes a sectioned bottom tank in the radiator which traditionally employs a rubber gasket to maintain the seal, these gaskets can fail for a number of reasons including but not limited to (oil/diesel fuel contamination in cooling system, rubber seal deterioration, baffles coming loose and more) and need to be checked carefully for deterioration and coolant bypass. If the coolant is bypassing the seal through the sectioned bottom tank, then the coolant will return back to the engine without having flowed through he radiator first. The coolant then effectively "bypasses" the radiator that provides the cooling, which can lead to serious overheating issues.
As these systems age/fail the radiators begin to exceed allowable bypass values causing equipment to run hotter and hotter, left unchecked this can lead to expensive engine issues.
THE ZERO BYPASS GUARANTEE
Procore has engineered an effective replacement product to address the issue of coolant

bypass. The bottom section of the radiator has been redesigned to use two soldered tanks. This completely eliminates the use of gasket baffles which are prone to failure. Procore is so confident in this design that we guarantee no coolant bypass for the lifetime of the radiator!
With all of the weight and vibration of each individual core being directed to the tube/header area, the strength of the soldered joint between them is critical. Through deep draw technology the contact area between the tube and header has been doubled. Paired with our 0.090" thick, full contact reinforcement plates on both the top and bottom headers provides the strongest construction available. This is the type of heavy duty build quality that you can count on to deliver long leak free service from the radiator.